Michelle Messina Film Director, Marketer, Multi-media, Media Copwriter, Inventor
Onex buys Westjet for 5 Billion just in time for Michelle Messina to join the team
Michelle Messina joins Westjet Culture Committee bringing Westjetters events with benefits
sponors such as: GoJava, Good Life Fitness, Marvel Beauty College, Joe Purple, and more.
Michelle Messina Interviewed on Movie Television for her World Premiere of her film "Fruitful Sex".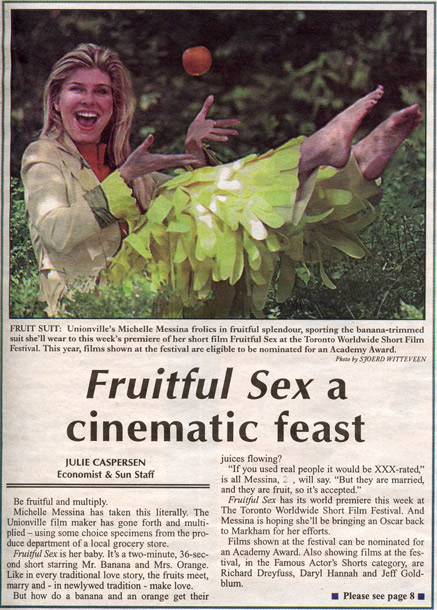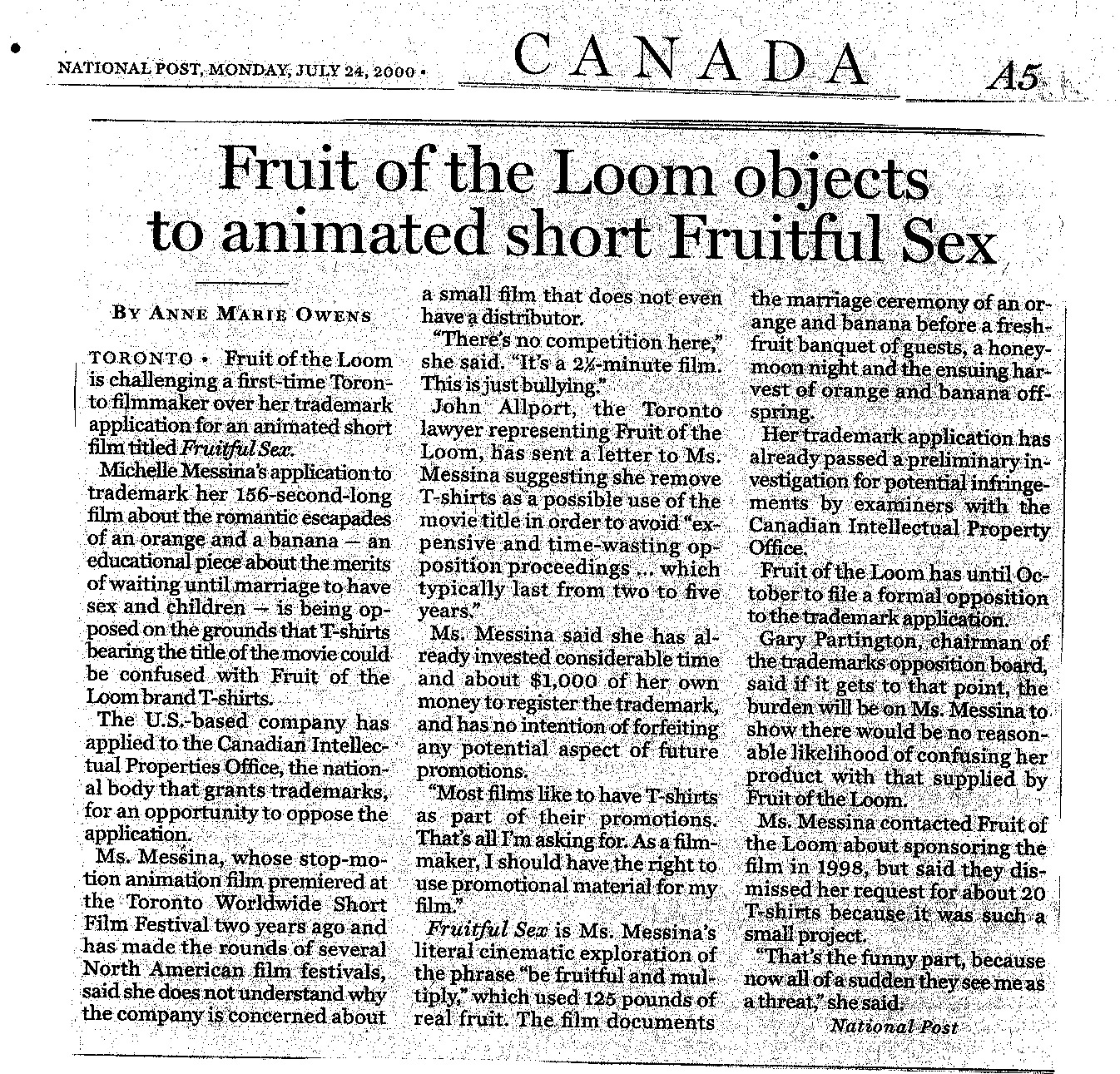 NOTE: join the fight against big business bullies. For six years I have upheld my trademark against Fruit of the Loom's challenge. Your support is important.
Update: I have won the case. Trade-mark Fruitful Sex approved and owned by Michelle Messina Contact: film@fruitfulsex.com
FRUITFUL SEX items available soon at www.fruitfulsex.com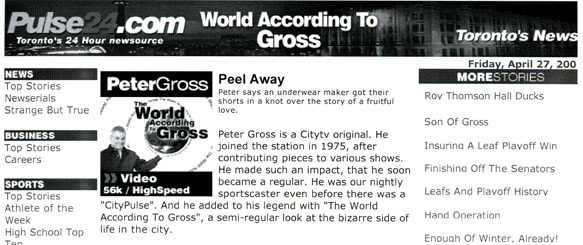 Note: Press Release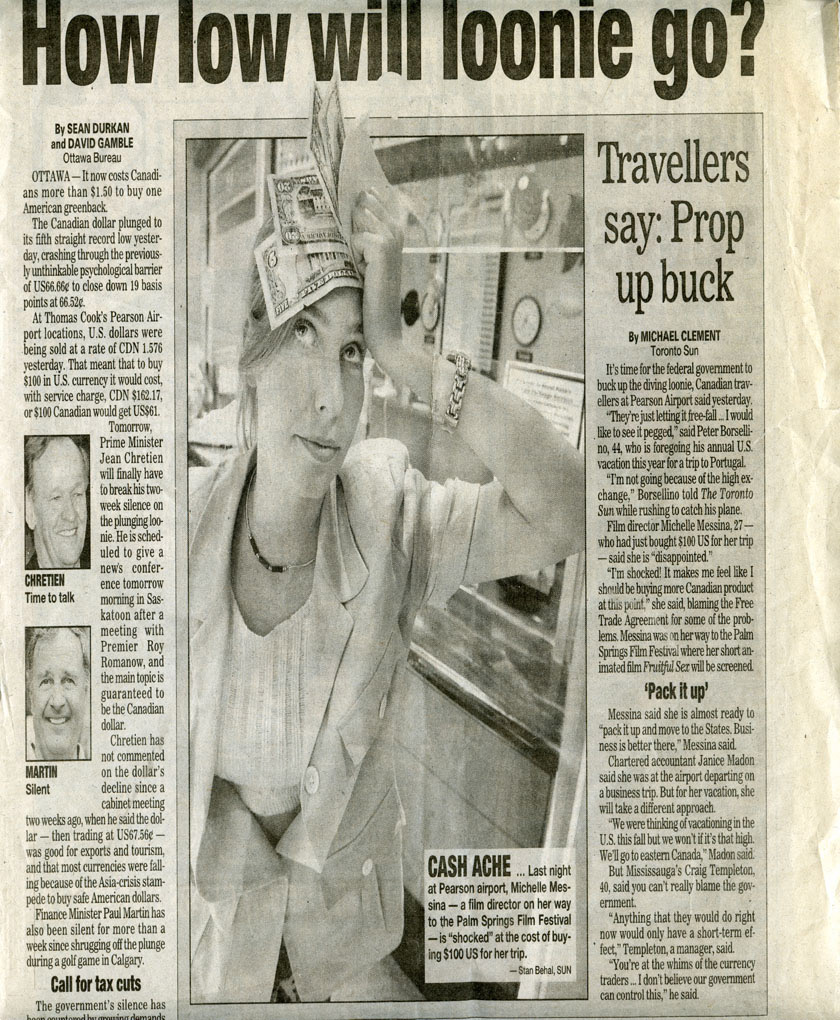 Media Dates
Accepted to the Toronto Worldwide Short Film Festival April, 1998
Press conference Planet Hollywood Announcement - photos Tues. April 7, 1998
Global News Interview + Film clips Reporter: Elaine Loring Tues. April 7, 1998
The Toronto Sun Journalist: Bruce Kirkland Article: Oscar's shadow falls on Short Film Festival Wed. April 8, 1998
MTN Movie Television Network Host: Teri Hart Film clips Sat. April 11, 1998
Filed "Fruitful Sex" Trademark April 20, 1998
Movie Television City TV Reporter: Lorraine Clark Sat. May 24, 1998 7:30 p.m.
TLN Telalatino Host: Daniela Calandra Extensive interview 30 mins. Sun. May 25, 1998 12:00 p.m.
Cuit Radio 89.5 Radio Interview Interview by Rebecca Mon. May 26, 1998 4:00 p.m.
Shaw Cable Reporter: Phyll Martino Extensive Feature interview 60 mins. Fri. May 29, 1998
World Premiere Toronto Worldwide Short Film Festival June 1 - 7, 1998 Canadian program Attended
Sponsor: Fruit Basket Handed out bananas at the screening June - 1998
Fruitopia "Coca Cola Ltd." Free Fruitopia Martinis. June, 1998 (Ironic considering Fruit of the Loom is affiliated with Coca Cola)
Economist & Sun Journalist: Julie Caspersen Article: Fruitful Sex a cinematic feast (Front Page & two pages) Tues. June 2, 1998
The Liberal Journalist: Julie Caspersen Article: Movie Has Sex A-Peel Thurs. June 4, 1998
US Premiere Florida Film Festival International Showcase June 11- 21, 1998 Attended
US Awards Gala at Universal Studios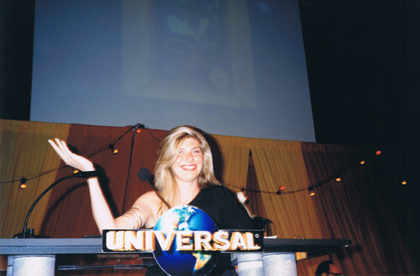 * One of seven films selected internationally Attended (Universal Studios festival close & Awards)
Guest Speaker University of Central Florida June 20, 1998
Film message about Fruitful Sex in Ph.D. Mary C. Johnson class
US Film Festival Palm Springs Film Festival (California) June 12-21, 1998 International program Attended
The Toronto Sun Journalist: Micheal Clement Article: How low will loonie go? (Interview onCanada's exchange rate.) Tues. July 28, 1998
LIFT Annual Party & Screening Aug. 7, 1998
The Showcase Channel Maggie Abbot affiliate with Francis Ford Coppola wants to purchase film Nov. 6, 1998
US Film Festival Toas Talking Pictures Festival April 15-19, 1999 International short animation program Attended
Albuquerque, New Mexico Film Festival April of 1999
British Columbia Antimatter Festival Sept. 17-26, 1999 Attended
Monday News B.C. "Messina enjoys fruit of her labour" Sept. 24, 1999
City View B.C Journalist: John Overall Oct 1, 1999
Article "Movie Review - Fruitful Sex"
Lift Newsletter "Raw Love of Animation" Mar/Apr. 2000 Article Vol. 20 No.2
Fruitful Sex(TM) Approved CIPO April 10. 2000
Fruit of the Loom Oppose Fruitful Sex trademark July 13, 2000
(Berksire Hathway Inc. owned by Warren Buffet Puchased Fruit of the Loom Inc.on a bankruptcy deal in December of 1999 for $835 million cash)
City Pulse News Reporter : Perer Gross Interview Fri. April 27, 2000 6:00 p.m. news
Pulse 24 News Reporter: Peter Gross "Peel Away" Fri. April 27, 2000
National Post "Fruit of the Loom objects to animated short Fruitful Sex" Anne Marie Owens July 24, 2000
Economist & Sun "Underwear firm drops legal brief On director" Journalist: Darlyn-Lynn Carlson Sat. Aug. 12, 2000
CCTA Canadian Director of the month Oct. 2000
The Canadian Corporate Television Association Volume 4, Issue 2
Film Canada Invitation for Canne Film Festival March 13, 2001
Taiszine TIAS - News Frames Publicity regarding case March 2001 Volume 12, Issue 1
TIAS Film Screened April 25, 2001 Attended
Ed video Film screened outdoors Guelph, ON June 15 & 16, 2001
Italian Film Festival Canadian Program Bloor St. Cinema June 17, 2001 Attended
NFB Film Screening Sun. Mar. 7, 2004 1p.m.
Quaderui D'Italianistica Vol. XXV, No.2 p.117-134 Fall 2004
Opposition Hearing CIPO Fruit of the Loom vs. Michelle Messina Re: Fruitful Sex Trademark March 30, 2006
Fruit of the Loom withdraw opposition
Trade-mark Re-allowed March 31, 2006
Fruitful Sex(TM) Enforced March 31, 2006
Toronto International Film Festival:
Global News Laura Zilke Sept. 7, 2006 Aired Sept. 8, 2006
Fruitful Sex(TM) final paperwork Sept. 8, 2006 (waiting certificate)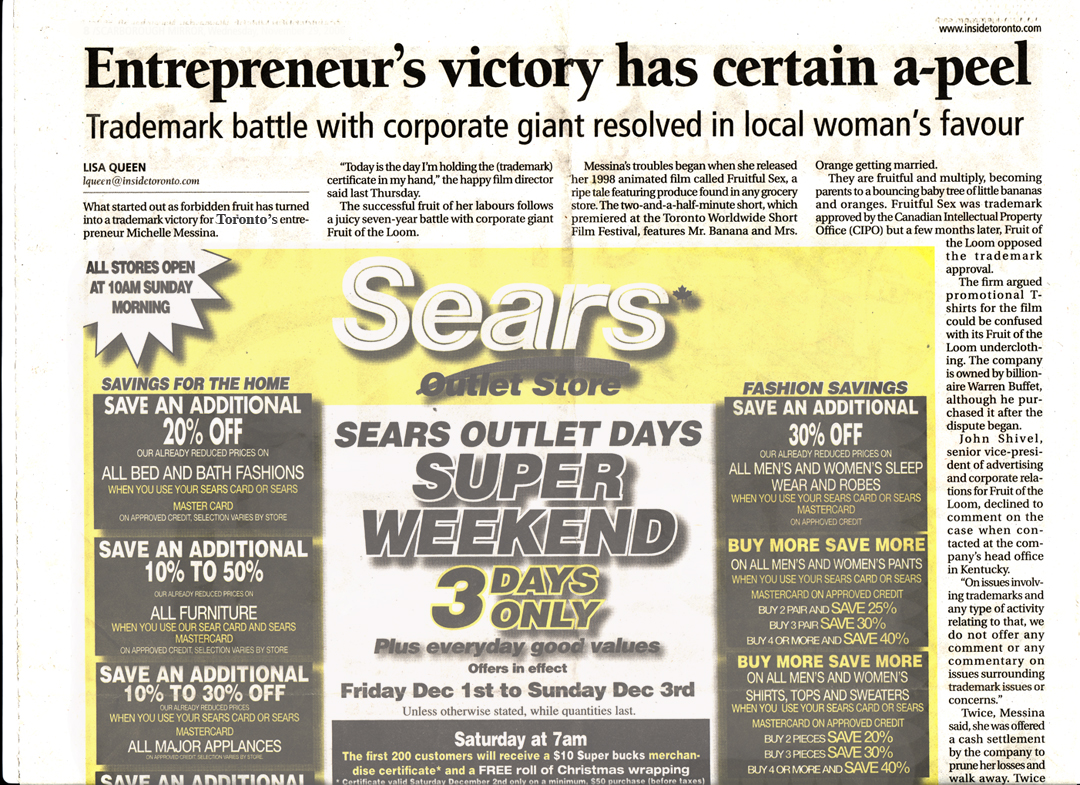 Fashion Week NY All Major Shows Sept.17-20, 2006 In Attendance
Michelle & Katya, two of the Canadian participants surveying the NY fashion market during fashion week supported by The Canadian Consulate
W magazine Photo by: At a media party NY in Soho (will be posted soon)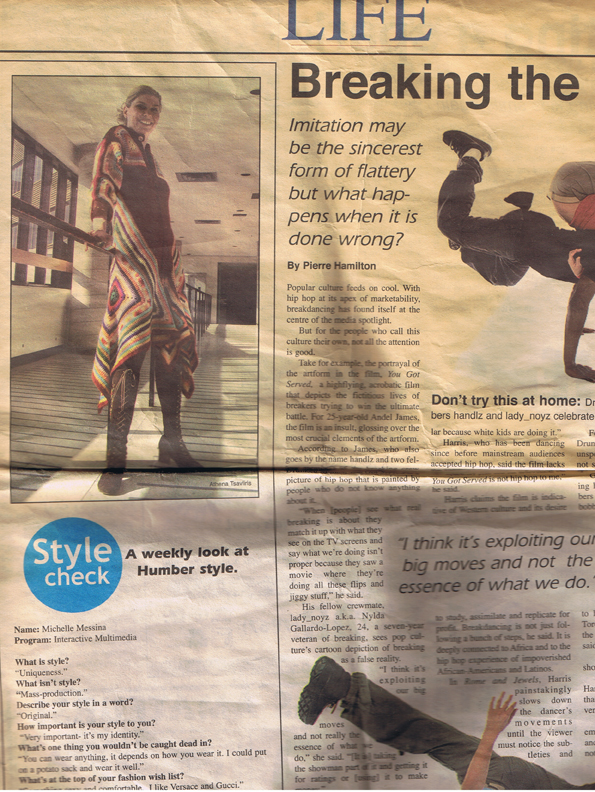 Toronto Fashion Week October 16-21, 2006 In Attendance & Shooter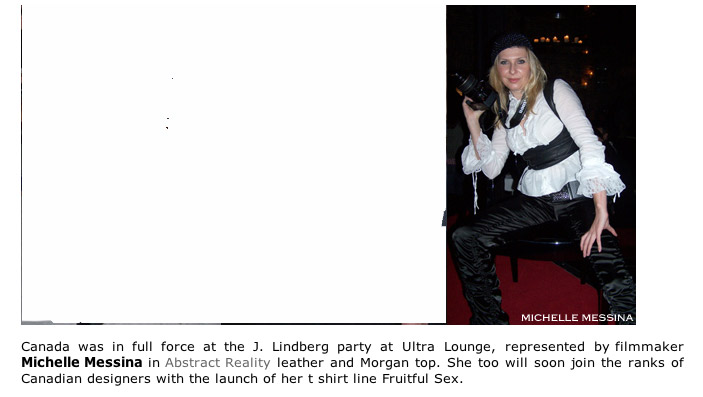 Trademark Certificate Received Thursday November 23, 2006
Celebration Time!!!!!!!!!!!!!!!!!!!!!!!!!!!!!!!!!!!!!!!!!!!!!!!!!!!!!!!!!!!!!!!!!!!!!!!!!!!!!!!!!!!!!!!!!!!!!!!!!!!!!!!!!!!!!!!!!!!!!!!!!!!!!!!!!!!!!!!!!!!!!!!!!!!!!!!!!
National Post "Legal win allows "fruitful" brand to reproduced" By: Katie Rook Nov. 24, 2006
SooToday News Canadian fimmaker gives Fruit of the Loom a wedgie By: Mr. Ed Nov. 24,2006
The Toronto Sun Trademark battle fruitful for director By: Tom Godfrey Nov. 25, 2006
Einnews Fruitful Victory for Messina Nov. 25, 2006
Jie Celebrity Hairdresser fruitful makeover Nov. 27, 2006
Rogers Cable Interview by: Greg Howes Nov. 28, 2006
Business Examiner Journalist: Steve Weatherbe Nov. 30, 2006
Intellectual Property Report Net Dec. 1, 2006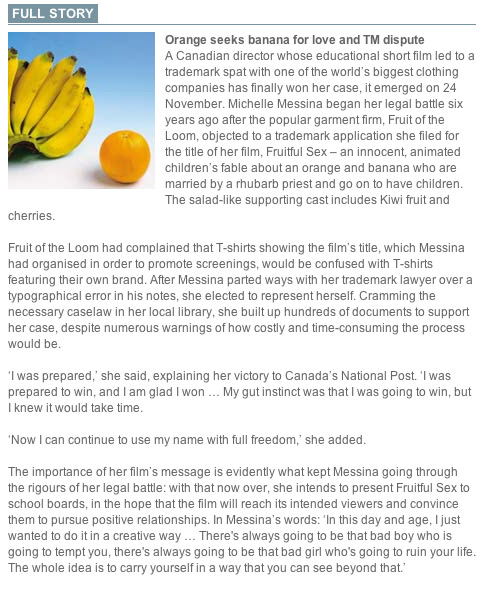 Guest Speaker My Media Biz Dec. 6, 2006
Jie's Christmas Party Dec. 9, 2006
YEAR 2007 Celebrates legal news!
Film Print Glen Wylie Interviewer Jan. 12, 2007
Fashion Frenzy (Celebrities and their Dogs) Fundraiser to fight cancer for dogs. February 28, 2007
Michelle Messina Photographer/Videographer
(Photos view)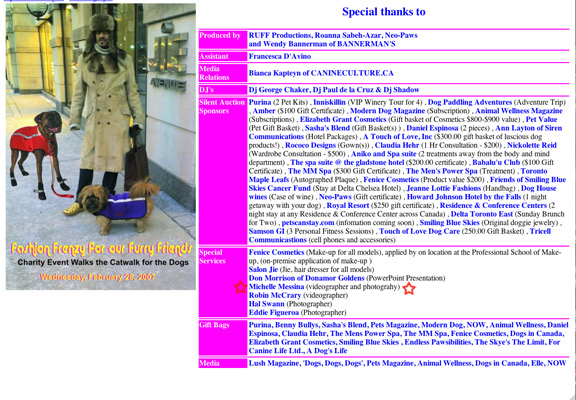 Shoot: School of Make Up Pro Feb. 28
Ambitious Blond Event, Hair Show by Tara & Models Runway Michelle Messina's Apparel Fruitful Sex Line March 2
(Photos will be posted this week press frame icon top page)
thanks Osei
Thanks Kareen
March 3, 2007 Missionfesttoronto photos will be posted soon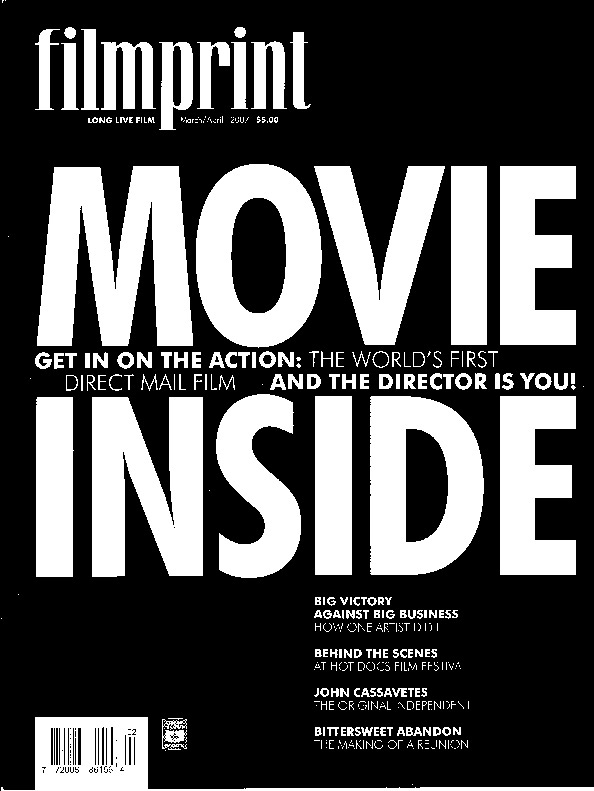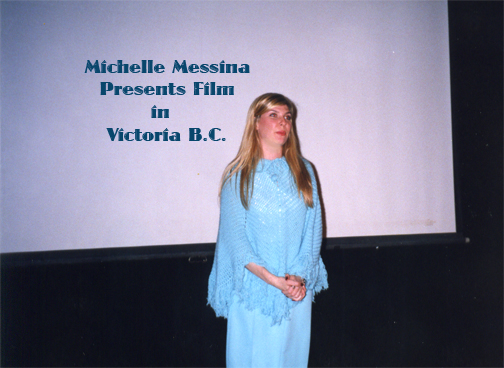 May 2007 T-shirts in selective stores.
Guest Speaker School TBA
Toronto Film Festival 2007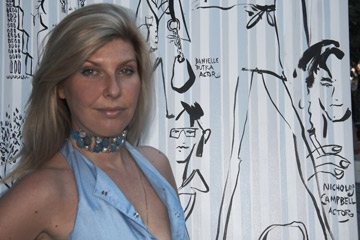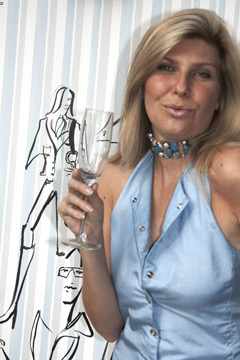 The Toronto Film Festival only got a glimse of Michelle because
she was off to B.C. scouting locations to complete her feature film.
Victoria, B.C.
Whistler B.C.
"Real love is always fated. It has been arranged before time.
It is the most meticulously prepared of coincidences. And fate,
of course, is simply a secular term for the will of God, and
coincidence for His grace." Joshua Harris
LOVE!
Fashion Week
Kate Moss Perfume Launch
Stan Garden & Michelle Messina
Fashion Week Oct. 2007
One day on YouTube Michelle Messina Achieves Two Honors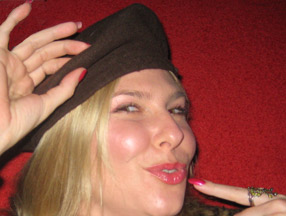 What's next?
Thank-you
To contact Michelle Messina press here
More articles to come...stay tuned mm
Return to home page

© 2003-2023 Michelle Messina. All rights reserved.